Thirty-four horse and rider combinations turned out for last night's inaugural $30,000 World Equestrian Grand Prix in WEC's pristine new arena, aptly deemed The Sanctuary. The international field of competitors negotiated a Steve Stephens designed course that included a dramatic crowd-pleasing triple combination that positioned spectators in the front row just inches from the action.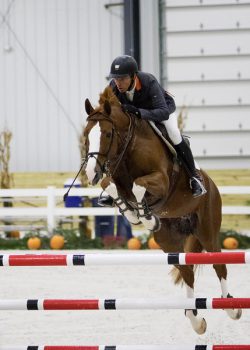 Wilhelm Genn and Buccati
Ten pairs went clean in the first round to qualify for the jump off and five went on to deliver double clear rounds but the night belonged to Wilhelm Genn and Bucatti. Genn and the lovely chestnut gelding delivered a textbook first round and a foot-perfect jump off round that stopped the clock at 44.019, well under the time allowed of 55 seconds.
Genn was effusive about the new facility: "This is a phenomenal place – I'm very thankful and grateful that Roby Roberts has built this new arena. It is really fantastic – they could hold any international competition in here – the size of the arena is fantastic – the length and the width make it an excellent size for a grand prix course."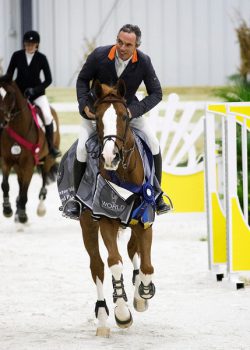 WEC Fall Classic Grand Prix Victory Gallop
Genn went on to discuss the footing, a crushed limestone that most jumper riders don't often see. "The footing was great tonight. It's brand new and the riders have been giving feedback all week. I spoke with the show management earlier in the week as the new footing felt a bit loose. They adjusted it tonight and it was excellent."
"It was a great course – my son rode two young horses in the class and they jumped very well in here, it is a fantastic ring. I felt like the Welcome was an outstanding course and a good preview of tonight's class. The course tonight was technical with a few tough questions. You had to have a plan."
Genn calls his mount Bucatti 'very special' explaining "I have had him since he was 5 and he is now 10. He did his first 1.60m Grand Prix two weeks ago at Split Rock and he went clear. He had a bit of a health issue earlier in the week with a nosebleed, so we did not do the Welcome with him, but after consulting with several veterinarians, the horse was deemed fit to jump. He came in tonight and jumped the first two a bit unsure, but then as soon as he understood that he was OK, he went right to work."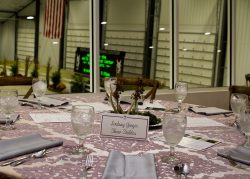 Spectators Enjoyed the Fabulous Grand Prix Dinner in the VIP Mezzanine
Other highlights of the class included Welcome Stake winner Melissa Rudershausen and her Charmeur Ask who were the last pair to go, keeping the crowd on the edge of their seats and blazing through the timers at 44.210, landing in second behind Wilhem Genn and Buccati.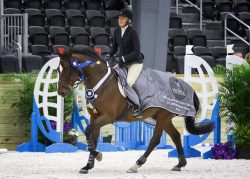 Welcome Stake Winners Melissa Rudershausen and Charmeur Ask
The diminutive Karen Cudmore went clear with one of her two entries, Southern Pride, piloting him to an impressive double clear at 45.374 and taking over the lead from Theo Genn, who ultimately landed in 4th with VanGogh.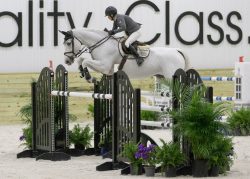 Karen Cudmore
Charlie Jayne and Playboy earned a spot in the jump off, but an unlucky pair of rails moved the pair to 9th place.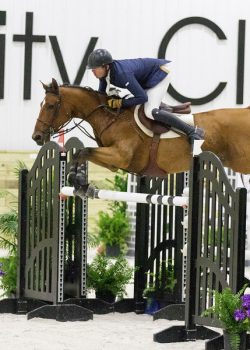 Charlie Jayne rode two mounts in the class and earned a spot in the jump off with Playboy
Sights and Sounds from the WEC Fall Classic $30,000 Grand Prix Evening and The Sanctuary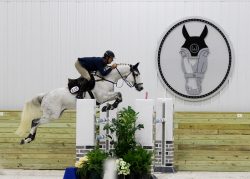 Showing in the Bright and Beautiful "Sanctuary" Arena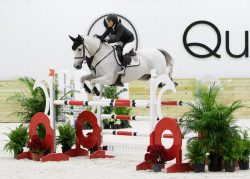 Cleveland Equestrian's Megan Bash and Pourkoipa Fontaine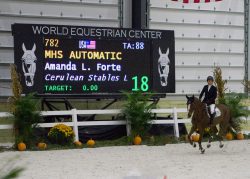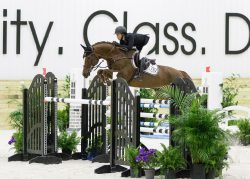 Amanda Forte and MHS Automatic