Wilmington, Ohio – This week's WEC – Wilmington Sunday Spotlight shines on Ten Sixty Stables, owned and operated by Sam and Michael Pegg, with the assistance of their business partner Basheer Kahn. The state-of-the-art equestrian facility is home to the Pegg's personal business as well as a series of rated horse shows that the team runs at their farm in Uxbridge, Ontario, Canada. The Pegg brothers have spent a significant amount of time at World Equestrian Center – Wilmington over the years, piloting their string of horses and even designing courses. We caught up with Sam and Michael Pegg to learn more about their partnership and their business.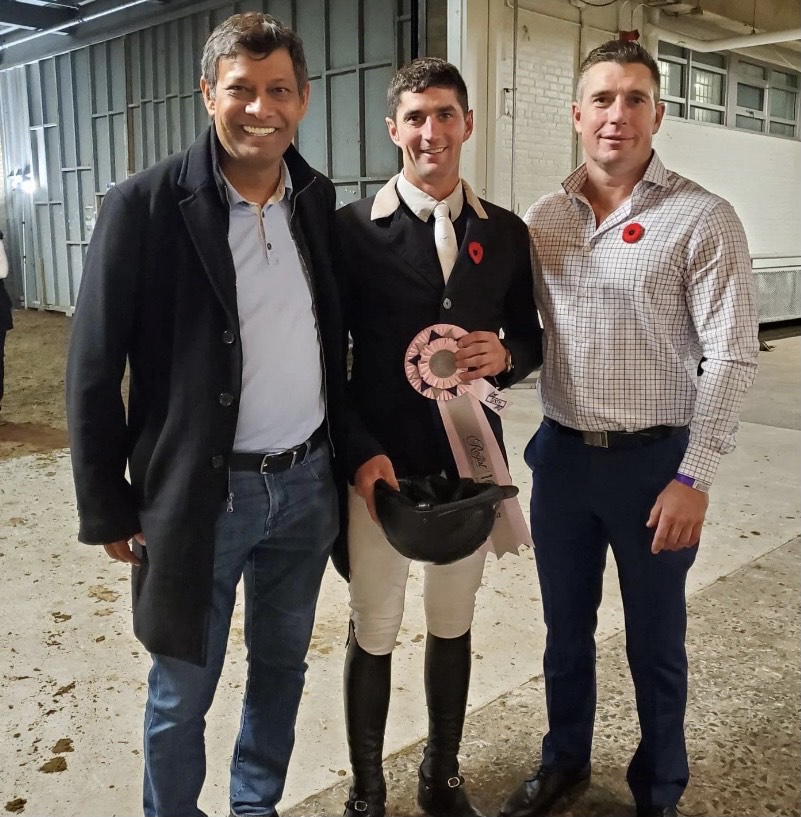 WEC: How did you and your brother get into the industry?
Sam: My mom got us both started riding. She had a farm and my dad had a farm and a smaller business with a bit of a riding school and she always bred some horses and ponies. So, we got started when we were quite young, and mom was our teacher! We just developed as we went. I rode when I was 20 for Chris Chain in Kansas City for six years and I really started riding professionally then, and it was an invaluable experience for my career.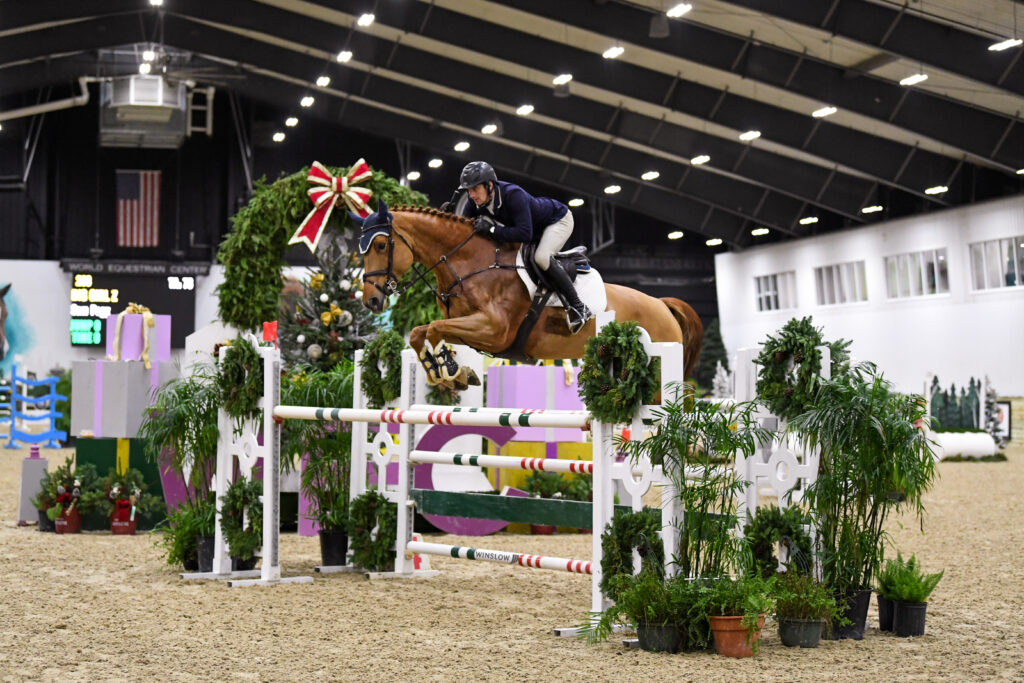 WEC: How did you both decide to open your own business and start your own farm?
Sam: We bought the farm seven years ago this February. That's when we started Ten Sixty Stables with our business partner Basheer Khan. We own the farm together and we've developed the infrastructure to run shows over the course of time and develop our string of horses and welcome customers. We run six rated shows that are placed every year.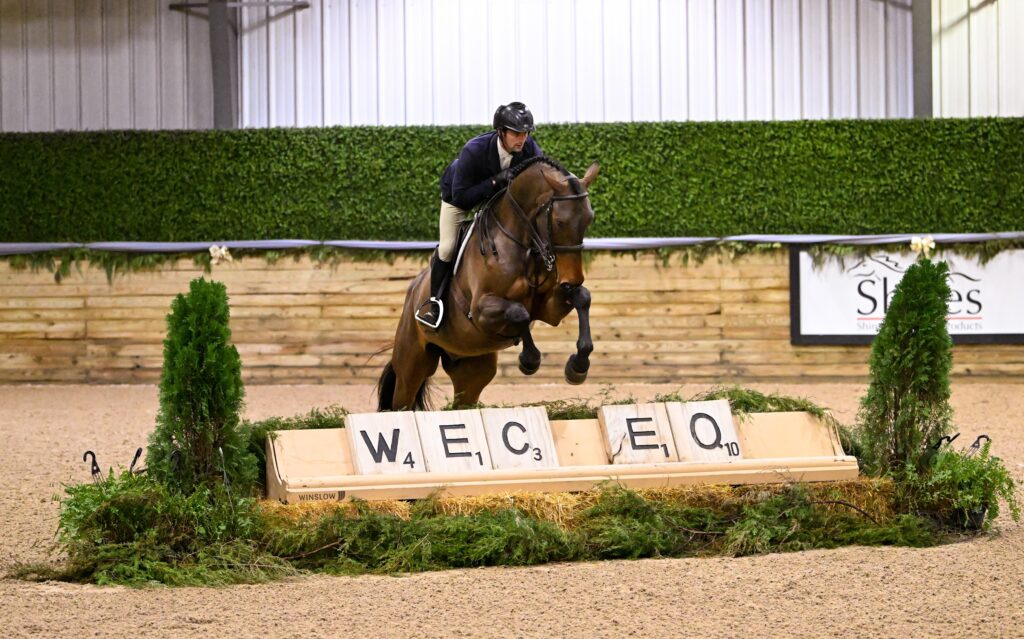 WEC: Tell us about course designing at WEC.
Mike: This is something that I have been doing for a number of years now. I have been doing courses seriously for the last 6-8 years. I have my FEI Level 1 and I am working on getting my FEI Level 2. It is something that compliments what we are doing with the horses and the business. We also run horse shows and sell a lot, so the course designing is a good way to get exposed to other venues, other horses, and other riders. I think it really helps to spend that much time on the ground at the horse show with my horse selection, so I am not stuck in my little bubble looking at my horses all the time. I always find a spot where I can see the ring so I can casually watch all day. It really soaks in, to see the horses and to see how they are jumping. It is nice to see the trends in the industry.
WEC is a fantastic venue. The ring crew guys are super educated. It is a great place to do courses and specialize in your craft. You always have what you need. Enough jumps, enough help, and you are never limited. You can push yourself a little bit and use some elements in different ways and have the time to watch to see what the effects are. Working at places like WEC really helps you improve quickly to see how it affects the horses and the sport. I have also done other venues like the Caledon Equestrian Park. You see the horse shows, how they run as a business and you get to see how the professionals interact in a different way rather than just as colleagues. You see what business models are working for people and what isn't for others.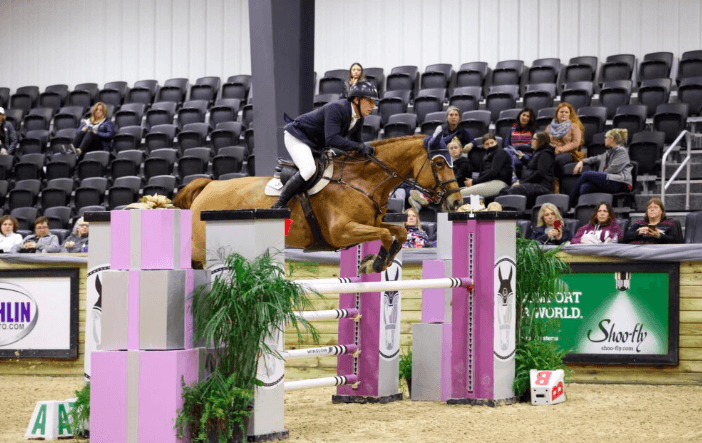 WEC: What does a day in the life look like at Ten Sixty Stables?
Mike: The horses eat first thing in the morning and the hunter horses go outside. The jumpers all go on the walker first. They are usually on there for about an hour. They come in and Sam starts riding. We try to get the horses all on the walker before they get ridden. The horses all get flatted Tuesday's and the rest of the week usually entails a lot of cavalettis and flat work to keep them all fit. We have some customer horses that will all get lessons and training rides to keep them organized. We are usually done riding by 4 pm on the weekdays. There are always other projects to do around the facility. It always flows from one thing to the next. The goal is to create an environment where the horses are the best that they can be, we feed them the right way and get them the most exercise and turn out to get the most out of them that we can.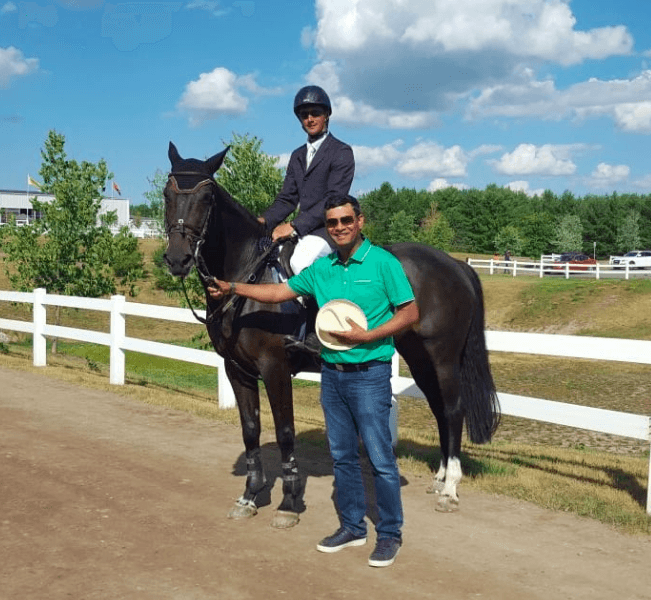 WEC: Tell us what it is like running a business with your brother and Basheer.
Mike: I think that it is a huge advantage for anybody that is able to run a business with partners that you really can trust. Everyone has their own best interest but having the best interest of the other people that you work with at the same time is very lucky. It is a hard thing to do on your own because you end up not being able to specialize as much. Since we have all three of us, we are able to run the shows at our farm and Sam is able to also spend so much time riding at the level that he is. If our farm in Canada was just me, I wouldn't be able to be on the road getting all of this experience, but I am able to do it being in business with someone I trust. It is so nice to have a group that has slightly different but complementary skills.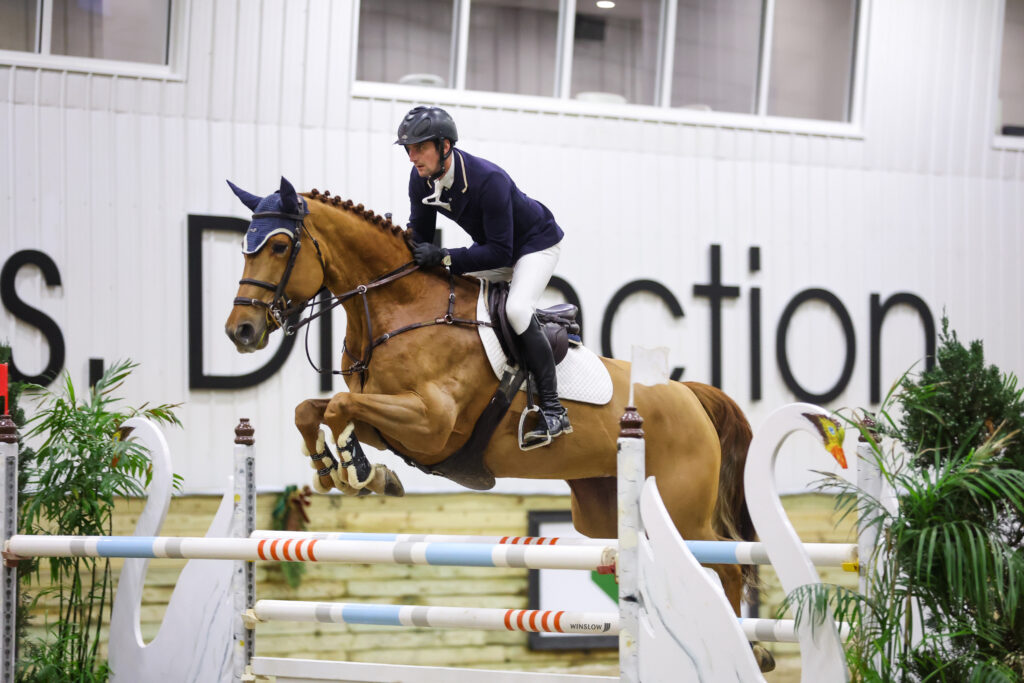 WEC: Tell us about your current top horses.
Sam: Big Girl Z is our main horse right now. She's turning 10 this year. She was 10th overall in the Canadian Championships at our Royal Winter Fair and jumped clear in the 2* ranking classes this summer in order to qualify for the Royal. So, she's been extremely competitive all year. In May and June, she was clear in every single round she went in. We also have Dolla 3 and she is turning 12 this year. She's jumped the 1.45m in Germany before she was imported. She had a little bit of a quieter year after I broke my hand. Actually, last week was the first Grand Prix that she's jumped, and she was double clear so, we're looking forward to the winter with her.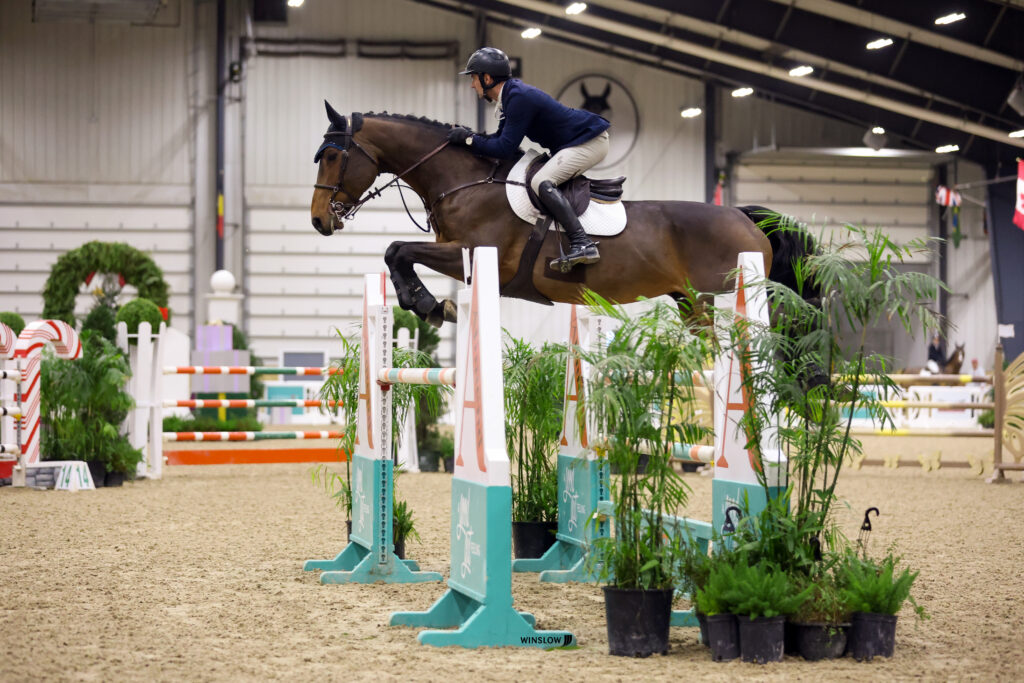 WEC: Tell us about your experience with WEC – Wilmington.
Sam: We come here every year, a few times a year and we love coming. I've been coming here since they were the Country Heir shows and they just started to have prize money. So that's seven years now that we have been coming to WEC – Wilmington. We always make a few trips a year and absolutely love it. It was snowing today, and I didn't even know! In Florida, it can be cold and rainy and you're outside getting rained on and in here it's always 70 and sunny!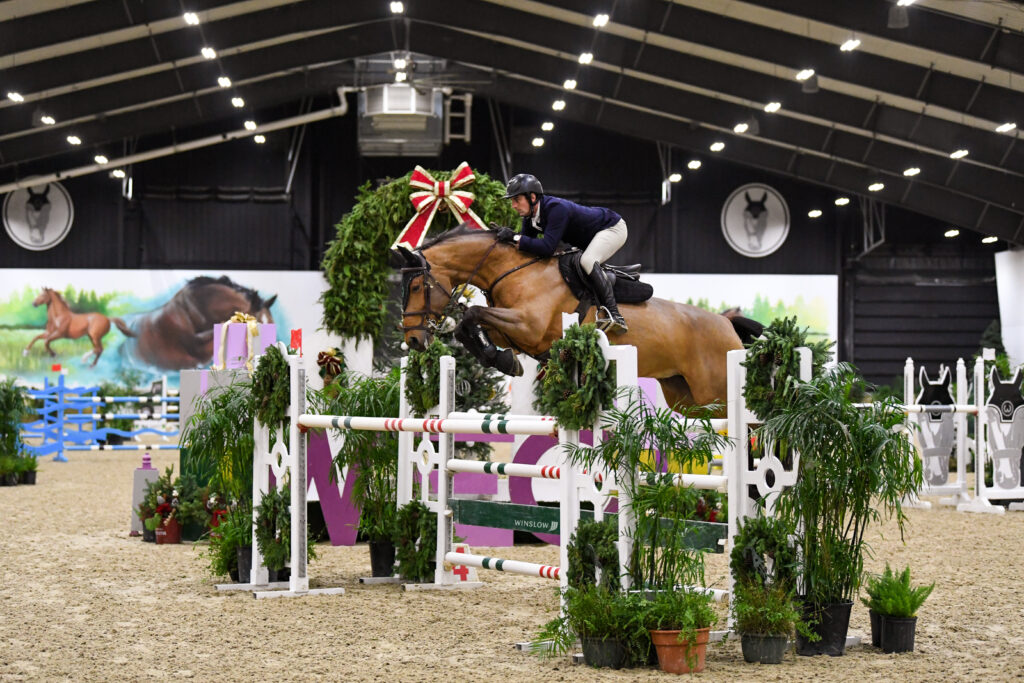 Thank you Sam and Mike for taking the time to speak with us! We wish you continued good luck throughout your journey in the industry!
Make sure to visit the WEC Blog and follow us on social media @worldequestriancenter for full coverage on all feature classes! Results can be found at HorseShowing.com.
Photos courtesy of Winslow Photography
Videos available at ClipMyHorse.TV