FOR IMMEDIATE RELEASE
The World Equestrian Center and eVet Partner to Offer FREE Horse Show Stabling
Exhibitors at the Inaugural Fall Classic and World Equestrian Center Invitational Will Receive All Stalls FREE for both Events, Courtesy of Electronic Vet
WILMINGTON, Ohio – September 24, 2016 –In an unprecedented act of generosity, the World Equestrian Center,in partnership with new sponsor eVet,will offer exhibitors FREE stabling at the World Equestrian Center Fall Classic October 19-23 and the World Equestrian Center Invitational October 26-30, 2016. Both horse shows are USEF AA Premier Hunter – Jumper 4, offering a combined $500,000 in prize money / prizes. Exhibitors should send in entries and stall requests through horse show secretary Julie Agar: julie.agar@comcast.net.*Contact show manager Vinnie Card at 352-208-1388 with questions. Entries for both shows close on October 14 and prize lists for both horse shows are available now on http://www.horseshowing.com.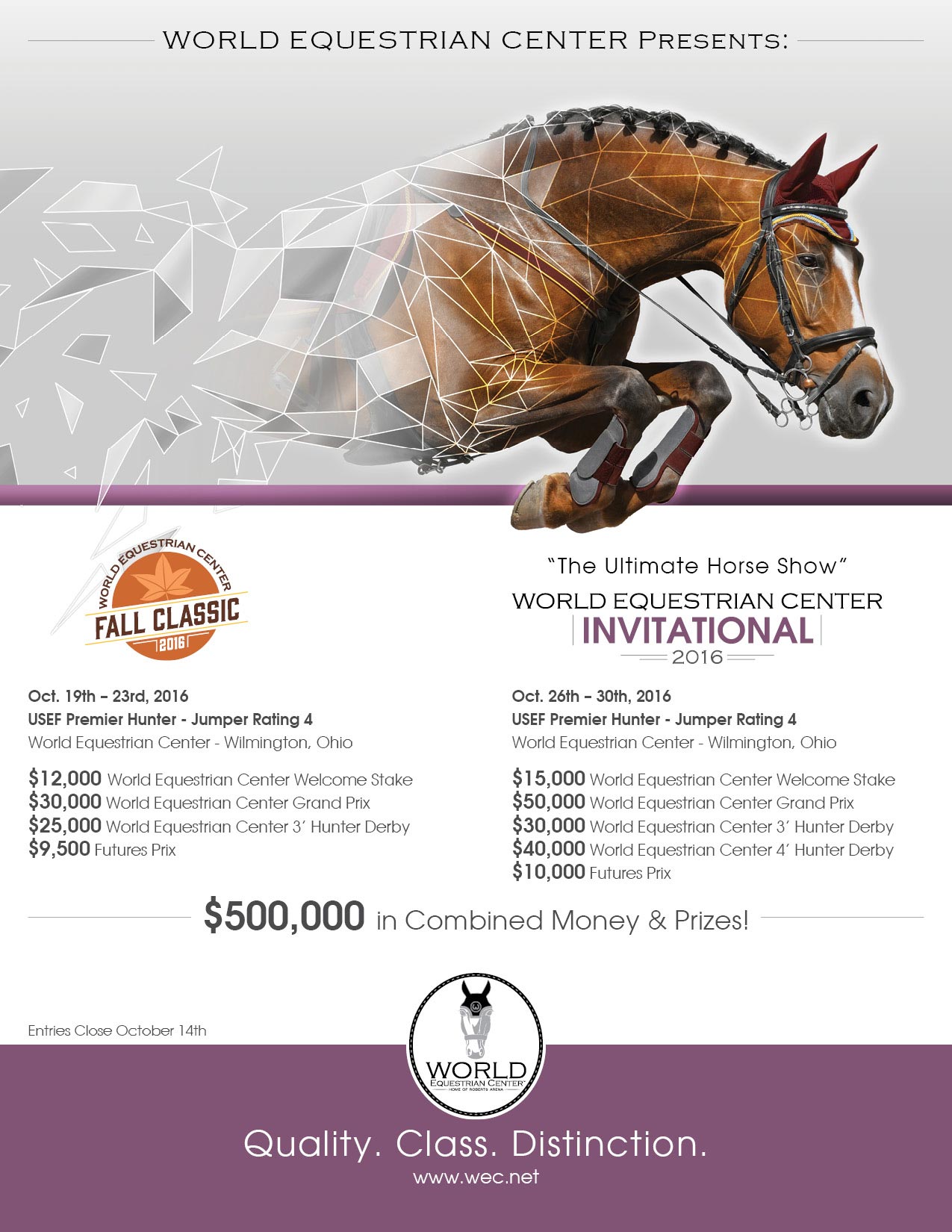 Industry newcomer eVet provides instant access to verified cloud based vaccination records making the horse show management process simple and fast for both  horse owners and show management. eVet ends the need for equine paperwork distribution and is the only platform compliant with USEF Vaccination Rule GR 845.
"Our goal is to introduce horse owners to the next generation of equine veterinary and show record organization," said Dr. Barb Blasko, Electronic Vet CIO. "The World Equestrian Center represents a new paradigm in equestrian competition management making them the perfect partner for Electronic Vet."
WEC October Shows – Feature Events
The WEC Fall Classic will kick off the two weeks and includes a full slate of Hunter / Jumper competition, including highlights such as:
$12,000 Roberts Arena Welcome Stake
$30,000 World Equestrian Center Grand Prix
$25,000 World Equestrian Center 3' Hunter Derby
$9,500 Futures Prix
During the second week of competition, the WEC Invitational will feature a 3"6" Junior Challenge with trainer pay out ($5,000, $3,000 and $2,000) as well as:
$15,000 Roberts Arena Welcome Stake
$50,000 World Equestrian Center Grand Prix
$30,000 World Equestrian Center 3' Hunter Derby
$40,000 World Equestrian Center 4' Hunter Derby
$10,000 Futures Prix
About eVet
eVet offers cloud based medical records and health certificates for veterinarians and horse owners. eVet's user-friendly programs  allow for the secure storage and use of veterinary records, and also empowers doctors of veterinary medicine to treat in a mobile fashion with ease of use. For more information, please visit www.electronic vet.com.
About World Equestrian Center
Driven by a passion for horses and a commitment to supporting equestrian sports in the United States, the WEC aims to return horse showing to its former grandeur while incorporating an element of fun reminiscent of the horse shows of the past.Located in Ohio's 'Golden Triangle' the venue is less than one hour from Cincinnati, Columbus and Dayton airports. For more information please visit www.WEC.net. 
*Exhibitors will be asked to accurately estimate the number of stalls they will use during both events to avoid exaggerated stall counts resulting in an excessive number of empty stalls.See www.wec.net for offer parameters. 
Media Contact:
Candace FitzGerald
Dobbin Group LLC
603-738-2788
candace@dobbin-group.com