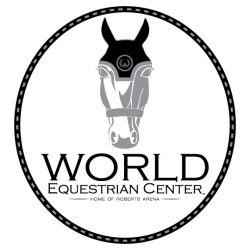 WILMINGTON, Ohio – May 2, 2016 – The management of the newly branded World Equestrian Center today unveiled their detailed plan for the development of the largest, state of the art indoor / outdoor equestrian sports venue in the world. Formerly the site of Roberts Arena, the World Equestrian Center (WEC) is situated on hundreds of acres of pristine land in Southwest Ohio featuring beautiful open fields and rolling hills. Entirely privately owned and professionally operated, the venue has been designed to offer the ultimate equestrian competition experience for both horse and rider. Driven by a passion for horses and a commitment to supporting equestrian sports in the United States, the WEC hopes to return horse showing to its former grandeur while incorporating an element of fun reminiscent of the horse shows of the past.
As part of the phased strategic build out presently underway, construction crews have broken ground on the WEC's new state of the art 150' x 300' indoor arena which will incorporate premiere footing, grandstand seating and private suites with concierge service. Outdoor complex facilities in development at the WEC include six all-weather competition arenas as well as grass Grand Prix and Derby fields.  The WEC's horse-friendly amenities will be rounded out by spacious wash racks, dedicated warm up areas and hacking trails. A 25-stall on site veterinary clinic managed by Dr. Derek McFadden, DVM will provide diagnostics, emergency treatment and rehabilitative therapy to horses competing at the venue.
Known as the Showplace of the Midwest, Roberts Arena has a rich history in equestrian sports as the home of more than 40 years of top AQHA competition. The WEC continues this tradition as the venue of choice for two of the top 10 Quarter Horse shows in the country – The Madness, which broke attendance records in April of this year and The Buckeye Youth and Buckeye Classic slated for July. In recent years, Roberts Arena has also played host to the popular Country Heir indoor horse show circuit. Moving forward, the WEC will be home to a series of seasonal USEF  "A" and "AA" rated Hunter / Jumper circuits, with plans in place to pursue top USEF and USHJA sanctioned finals and ultimately to host FEI and World Cup qualifier-type events. In addition to their own shows, the facility will be available for a select number of outside equestrian events, based on application criteria and availability of dates.
The facility boasts a myriad of options for both long and short-term on-site accommodations including a charming mini neighborhood of 36 quaint cabins featuring wide front porches and rocking chairs that encourage after show socializing. Directly across the street from the venue is our 'Home Away from Home' park featuring 40 two and three-bedroom homes on a private, winding road nestled among wide green lawns and 100-year old trees. Competitors wishing to bring RVs can utilize the more than 40 hook ups on site, or take advantage of the 237 sites at the beautiful Cowan Lake State Park campground just one mile away from the horse show grounds.
Visitors to the WEC will enjoy shopping for unique products from various vendors as well as onsite dining experiences that include a Café and grille and world-class barbeque by Tank's Brew and Cue. The full-service on site Aveda day spa is available only to horse show patrons, ensuring prompt service in a private atmosphere. The WEC has published a 'Where to go After the Show' illustrated map with directions to the many local attractions including King's Island, Soak City Water Park and Fields Ertel Road which features shopping and dining only 40 minutes away in Cincinnati.
Family friendly after-hours social and sporting events have become a hallmark of the WEC. Once the horses are back in their stalls, rings transform into beach soccer, volleyball or dodge ball courts.  Popular movies headline Drive-In Movie nights where families can park golf carts full of kids and dogs to watch movies and enjoy freshly popped corn and snacks. Equestrians at WEC can enjoy the skating rink, swim in the pool or try their hands at various un-mounted competitions including dog races, wheelbarrow races and 'ride and drive' golf cart obstacles courses. The after hours activities change each week, but the main theme remains the same – to have fun.
Construction will continue throughout the summer and finish in time for the debut of the World Equestrian Center Invitational, a USEF "AA" horse show scheduled for October 26 – 30, 2016. The horse show will feature a full slate of Hunter and Jumper competition as well as a Grand Prix, a USHJA Hunter Derby, a Pony Derby and a Gambler's Choice.
About World Equestrian Center
Dedicated to providing the ultimate horse show experience, the facility is designed and managed with the horse and rider in mind. Located in Ohio's 'Golden Triangle' the World Equestrian Center is less than one hour from Cincinnati, Columbus and Dayton airports. For more information please visit www.worldequestriancenter.com.
Media Contact:
Candace FitzGerald
Dobbin Group LLC
603-738-2788
candace@dobbin-group.com