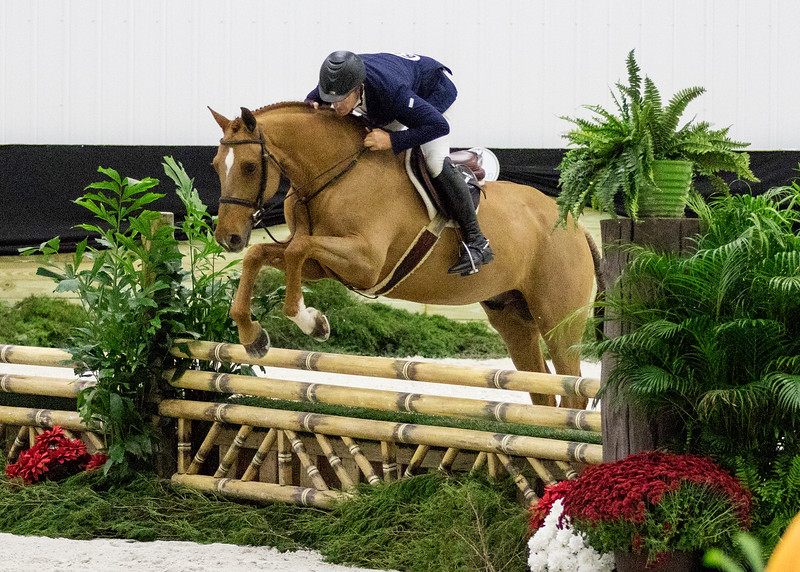 The World Equestrian Center's new Sanctuary indoor was transformed overnight from a colorful Grand Prix show jumping stadium into a lush Fall countryside filled with beautifully decorated natural fences for the WEC Invitational $30,000 USHJA 3' Hunter Derby and the $40,000 WEC 4' Hunter Derby.
Both Derby classes followed the same track that featured a stunning assortment of elements that incorporated birch trees, bamboo, logs and fall foliage including the signature WEC logo carved pumpkins as part of the standards. WEC Invitational Hunter course designer, Tucker Williams said, "It's a pleasure to work with these leading hunter riders and horses – they bring their abilities and you have to be creative for them to not lose their interest. The riders I've met with this week have complimented us on the facility, the jumps, the courses – you name it. It's great because they are the first ones to let you know if they aren't satisfied."
"My goal was to do it the right way and with the help of Steve Stephens, whose jumps were constructed so beautifully, it gave me more time to be creative. By the smiles I saw on the riders faces as they completed their rounds, I believe we accomplished that," he said.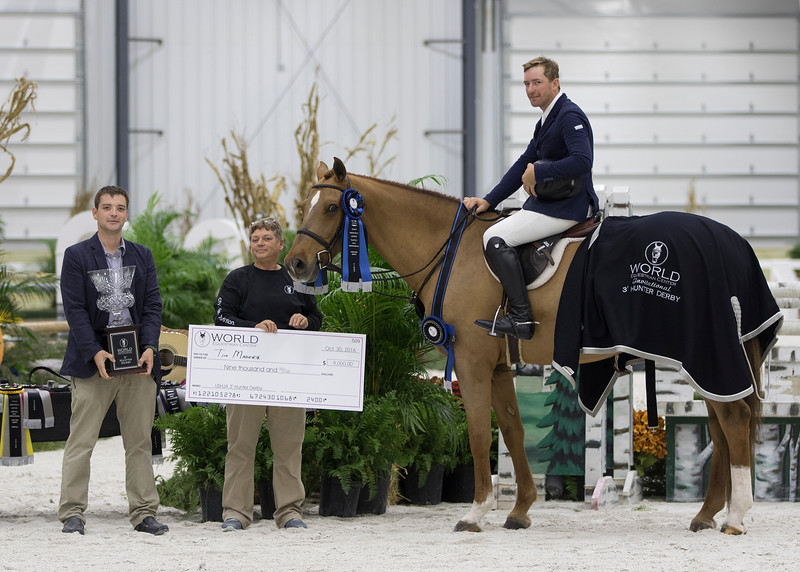 3' Derby Champion: Life is Good
A strong field of 33 Hunters showcased their gorgeous style and finesse as they negotiated a flowing course that demonstrated their scope and ability to get in a rhythm and adjust to the size of the massive arena. The course featured two single fences, followed by broken lines, a combination going away from the gate and finished up over a wide oxer going towards the gate. Alabama-based Tim Maddrix, guided Life is Good, owned by Missy Nolan, to the top of the leader board after two high scoring rounds that the rest of the field just could not match.
Results:
1. Life is Good; Tim Maddrix; Score: 360.00
2. Norderney; Belynda S. Bond
3. Lavish; David Q. Beisel
4. Indecision; Tim Maddrix
5. Timeless; Leslie Quillen
6. Tenacious; Bernadette Coyle
7. Tybee; Emily Williams
8. Rio's Figaro; Daryl Ziegler Henning
9. Capetown; Taylor Kain
10. Just Right; Tim Maddrix
11. Smoke, Erica Quinn
12. Marshall; Winn Alden
For complete listing of class results please go to horseshowing.com.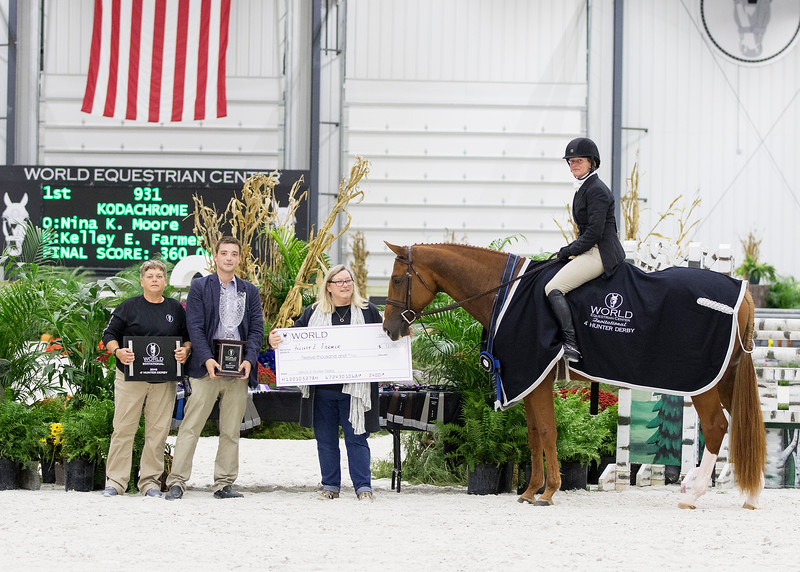 4' Derby Champion: Kodachrome
With his owner Nina Moore ensconced in the VIP, Kodachrome, ridden by top hunter rider Kelley Farmer delivered the top score out of a field of 15 in the $40,000 WEC 4' Hunter Derby. "I joked with Nina before this event and said to her, I'm not showing with him until you come watch, whenever you watch, he wins," said Farmer with a grin.
This was Farmer's first time showing at the World Equestrian Center and she was very complimentary, stating, " I can't say enough with what Roby Roberts has done, it's fantastic! To find someone willing to put their money into the horses; the facility; and the overall sport – people need to support it! Farmer's home base is in Kentucky and she will definitely be back to enjoy riding in the state of the art indoor rings that she described as open, airy, and beautiful, "when someone wants to do it right, it's rare," Farmer added.
This was Kodachrome's first derby win and Farmer is thrilled for him. "He's a lovely horse and I'm honored that Nina lets me keep going with his career this year. He's been a great horse for me, I can't say enough about him and the venue."
Faced with a challenging handy round, Farmer wasn't concerned with Kodachrome, "He does handy very well, there is literally nothing I can't ask that horse to do – he's so strong and so careful, you don't have to worry about him."
As a hunter, Kodachrome is really a first year horse and according to Farmer, he's done A LOT in his first year, "to win what he's won this year – a lot of horses don't win that in their careers."
Tucker Williams was still smiling post-show, "It's been a great experience course designing for WEC. I knew this place had a vision once I got here, it speaks for itself, it really does. Roby's excitement for what he wants to bring to the industry is felt and it's a great feeling!" Williams added.
Results:
1. Kodachrome; Kelley E. Farmer; Score: 360.00
2. Sandlot; Katie Cooper; Score: 357.00
3. Shutterbug; Tim Maddrix
4. Celtic Fire; Erica Quinn
5. Point Being; Kelly Farmer
6. Alastar; David Beisel
7. Usa D'horset; Adrienne Iverson
8. Geppetto; Linda Radigan
9. Eos M, David Beisel
10. Longstreet; Holly Shepherd
11. Cassin; Blair D. Cudmore
12. Conway; Nicole Shahinian-Simpson
For complete listing of class results please go to horseshowing.com.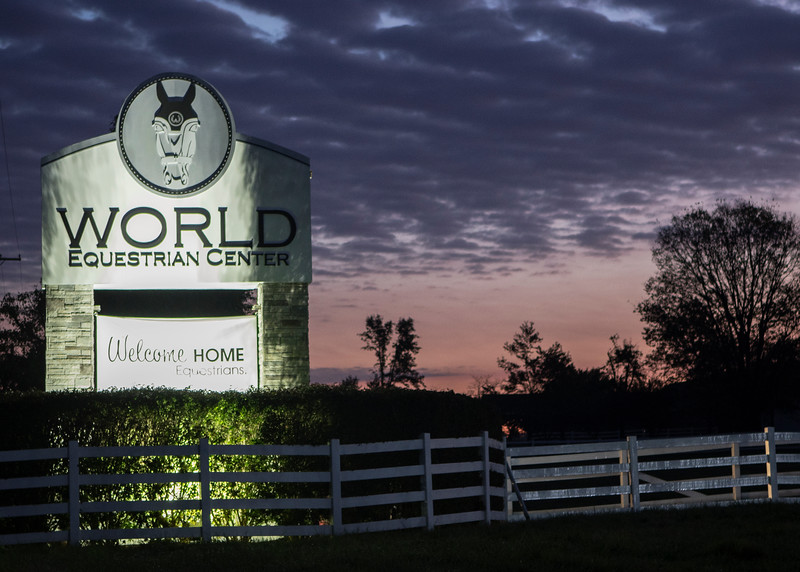 It was a great two weeks of horse shows for us here at WEC and we thank everyone – exhibitors, owners, spectators, staff and friends. The prize list for our December shows is now online at www.horseshowing.com. We hope to see you all again in December!