The saddle and bridle are the most important pieces of equipment for both horse and rider. Without a properly fitting saddle and bridle, equestrian events become a burden.
The right tack makes the difference between recreation and frustration.
For the rider, a properly fitting seat should allow the width of four fingers from your bottom to the top of the cantle. For English riding, make sure the saddle flaps do not interfere with tall boots.
On the horse's side, two to three fingers of clearance into the pommel end assures the horse's spine has plenty of clearance. There should also be room at the cantle end. The saddle should sit balanced on the horse's back and should not rock back and forth. The deepest part of the seat should be in the middle with the cantle and pommel near even.
Depending on how a horse is built, the saddle may need a wider or narrower tree in the front or a thicker or thinner gusset in the back to achieve balance.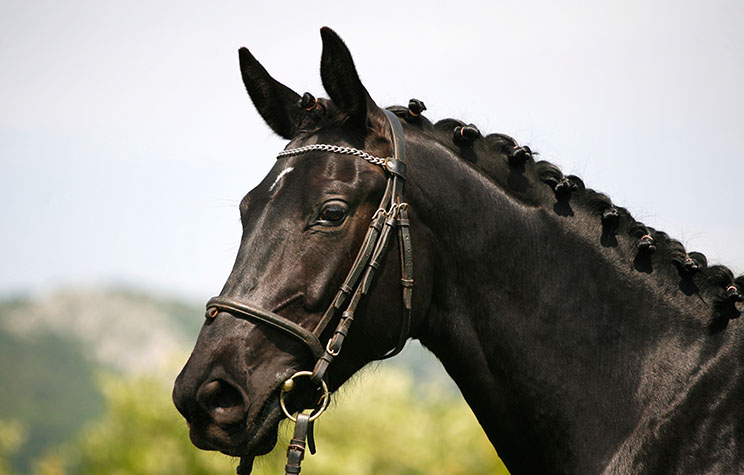 Bridle Basic: Control, Not Pain
A properly fitted bridle will allow you to control your horse without pain or undue discomfort.
For a standard bridle make sure the brow band does not pinch the ears too tightly. The nose band should come across the nose about a finger's width below the check bone and should be tightened to allow a finger to easily slip between the horse and band. Tightening the band too much or allowing it to drop too low could restrict the horse's breathing.
The throatlatch is the loosest fitting strap and is meant to keep the bridle on in case another part of it fails. The throatlatch should allow for four fingers width between the latch and throat. Again, a tight throatlatch could cut off the horse's air.
If you use a flash band, make sure it goes in front of the bit keeping to the same finger's width rule.
Getting the bit placement correct is crucial. A badly positioned bit will cause undue discomfort to your horse and will make him less likely to want to perform.
If using a snaffle bit, make sure it sits high enough in the mouth that it creates a wrinkle on the each side of the mouth.
For information about equestrian events, visit World Equestrian Center (WEC), the largest indoor, climate-controlled equine facility in the country.