World Equestrian Center was alight with plenty of exciting equestrian action with featured classes filling the rings each afternoon from Thursday to Saturday during Week 8 of 'Winter in the Midwest.' Exhibitors enjoyed fun after-hours events including a very competitive cornhole tournament at the Paddock Club. Exhibitors and spectators alike enjoyed the sport while attending ringside exhibitor parties during featured classes.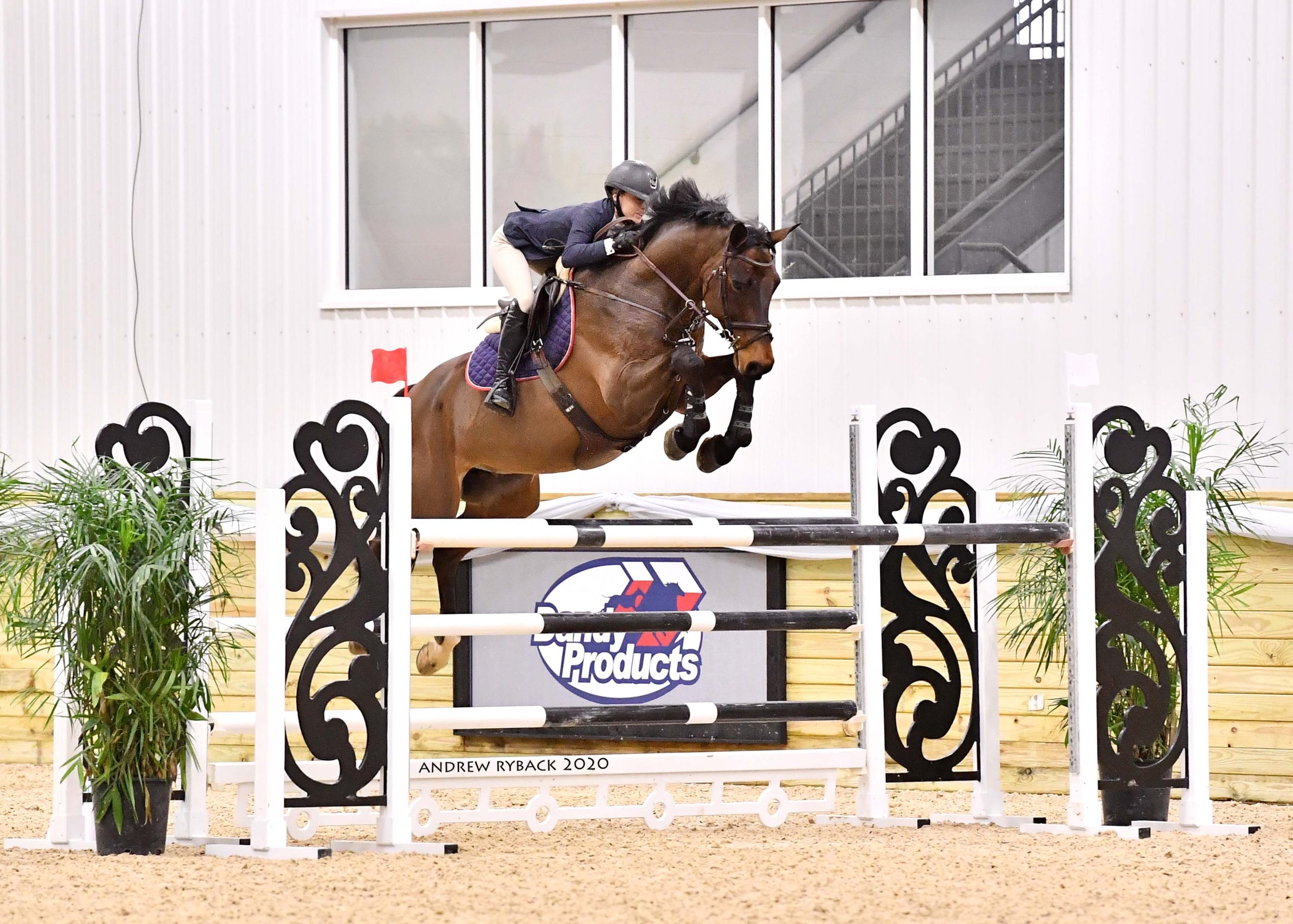 Thursday
saw 16 skilled jumpers vying for the win in the $5,000 Welcome Stake 1.35m sponsored by
CWD Sellier
.
The top three placings were separated by under a second, but it was 21-
year-old
Sandra Zimmerli and Zimmerli Show Jumping, LLC's Geronimo 132 (Cloney x Salome) that nabbed the win.
Zimmerli and the 10-
year-old
Hanoverian gelding navigated a clear first round in 73.188 seconds and advanced straight to the jump-off, jumping clear in
a winning time of
37.042 seconds.
When asked about her plan on course, Zimmerli replied, "My plan was just to have two smooth rounds. Once we jumped the first
round,
I felt that he could go a little bit more. It was a good jump-off for him. He turns
really well
to the left. I was able to jump the first jump straight and keep coming in eight strides to the second one, then I kind of caught everything out of stride and kept galloping out of the corners. I was able to trust that he would stay
off of
the rails, which we've been working really hard at. We left a stride out in both of the related distances and it was quick enough today!"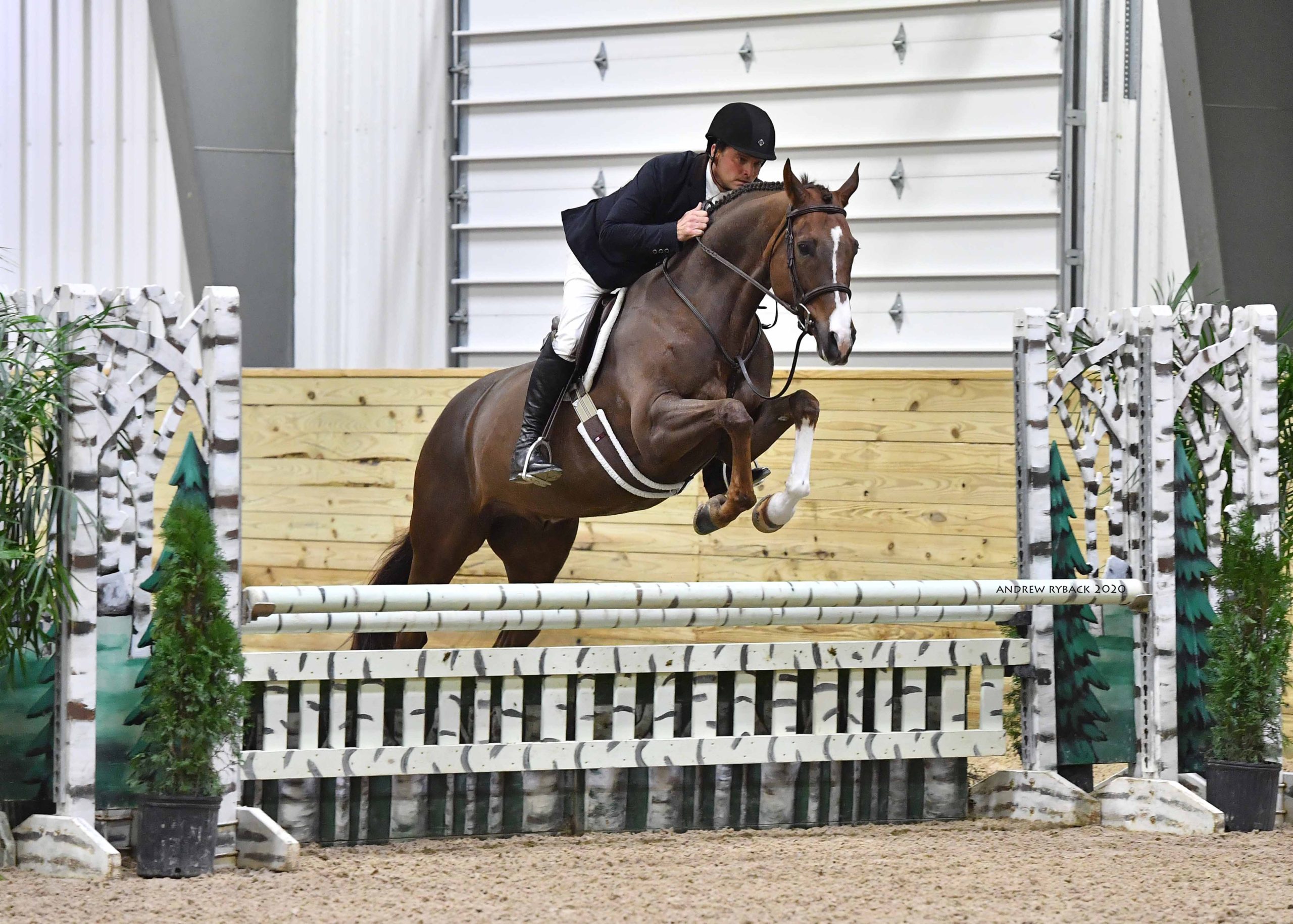 A record 40 entries filled the R+L Arena on Friday for the $5,000 USHJA National Hunter Derby. Scores soared into the 90s, but it was Jason Berry catch riding for Kosta Kalanov and Traci Ribeiro aboard Kalanov Equestrian's Abudabi who captured the win with a pair of scores in the 90s. Berry and Kalanov Equestrian's Abudabi took to the course about midway through the order. Berry and the flashy liver chestnut gelding wowed the judges with a foot-perfect first round, taking all four high options and earning a score of 92. They then laid down a flawless second round and earned another impressive score of 92, bringing their overall total to 184 to win the class. Jason Berry of Jason Berry Stables in Staunton, Virginia took a moment to chat with us ringside after the awards presentation, "It is about as easy as it gets riding this one. Abudabi is a catch ride for me. He is one of Kosta and Traci's horses. There is not much to do. He is point and shoot. In the handy round there were a couple of turns I didn't try because we didn't need to, so we played it safe and had a really nice round. Nothing too crazy." Abudabi's owner Traci Ribeiro also commented on the win, "It's great to see what my horse can do, even when I can't do it myself. Jason has been so wonderful working with our horses, we really appreciate it. I love to see Boo shine."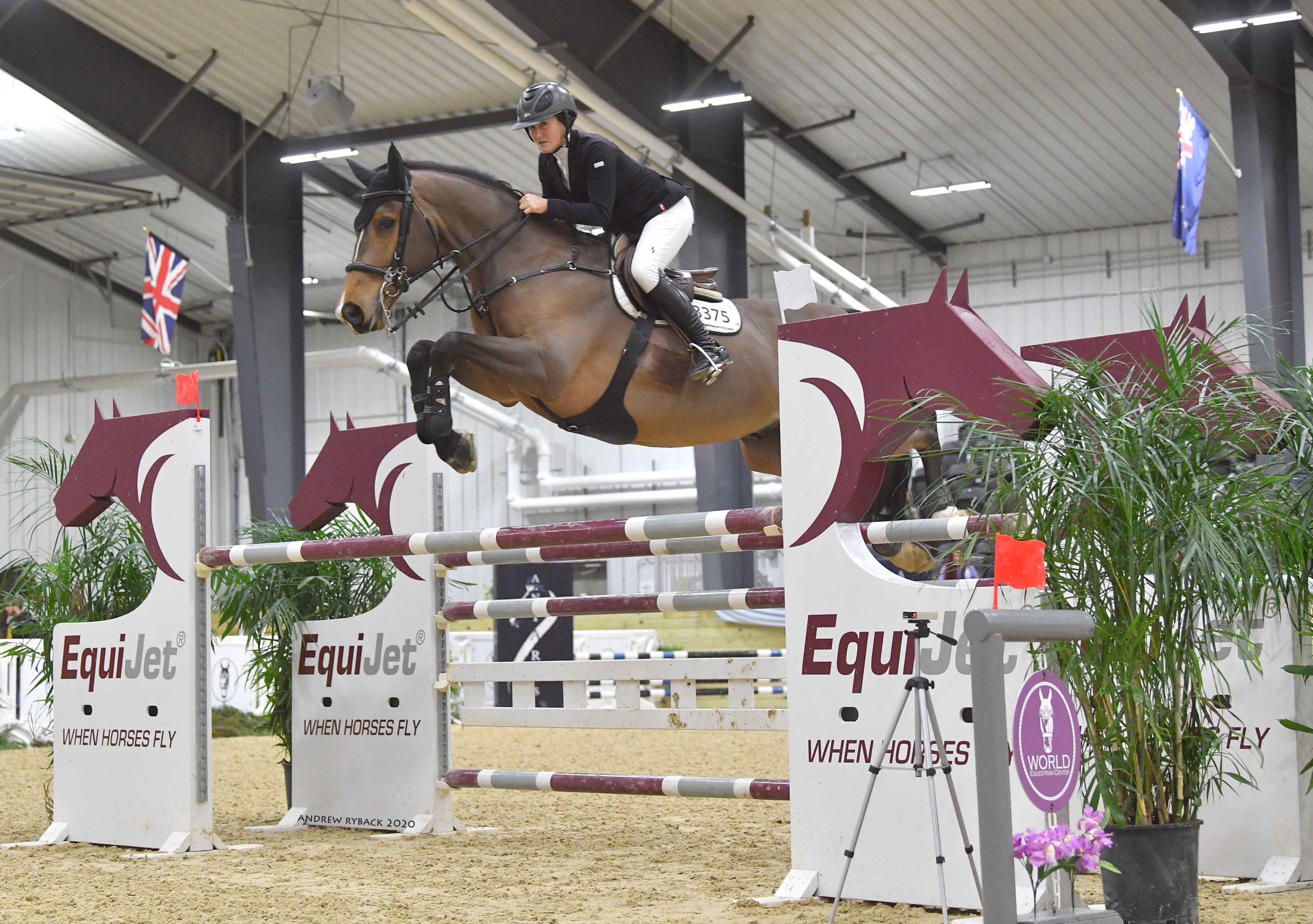 Spectators filled the grandstands of the Sanctuary Arena on Saturday for the $25,000 World Equestrian Center Grand Prix. Only two of the 16 entries managed double clear rounds, but it was Kelley Robinson and her own Blue's Yer Daddy (Mr. Blue) that nabbed the win. Robinson and the 13-year-old gelding were quick and clear in the first round in a time of 73.999 seconds, signaling that they would be strong competitors in the jump-off. When they returned on the short course, the pair kept a steady pace taking the inside track to fences six, nine and 11 and crossing the timers at 40.494 seconds for a clear round, ultimately taking first place. Robinson of Cimarron Show Stables in Russel, Ontario took a moment to chat with us ringside after the awards presentation, "I was really happy with this horse because he's not always the fastest because he's so big and strong, but he's very good. This is his first time showing indoors, so I really wasn't so sure how he would be, but he was excellent."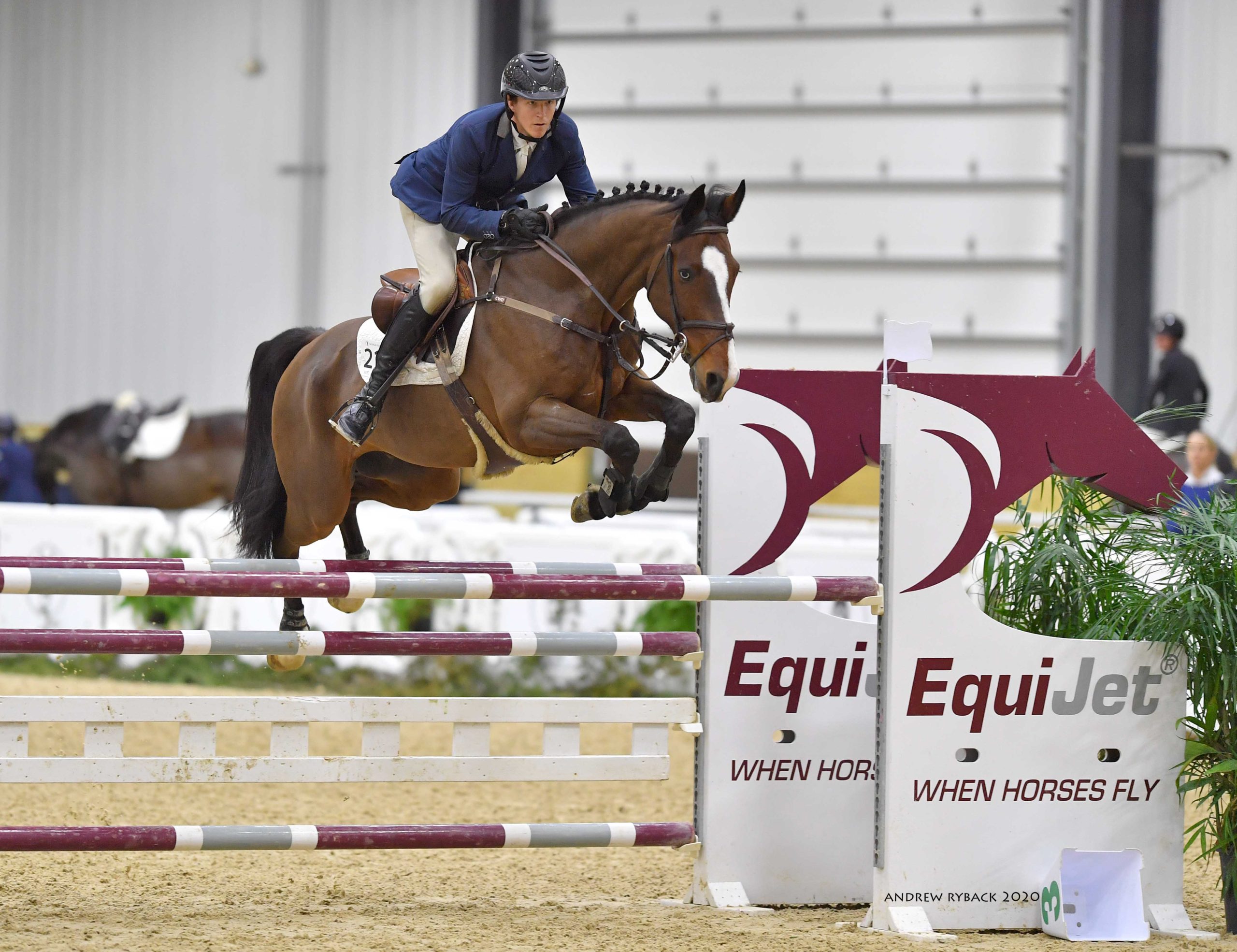 Saturday's $7,500 Futures Prix 1.30m sponsored by Voltaire Design saw 19 entries, but it was Michael Kocher who owned the class, taking first and third place aboard his own Captain Jack Sparrow H (Cassin x Unicutus) Andrew Kocher's Hector AAD (Lord Z x Ricci van de Olmenhoeve), respectively. Kocher and Hector AAD were quick and clear in the first round in a time of 77.447 seconds. The pair continued straight to the jump-off of the Table II 2b event, keeping their fast pace and taking tidy turns to fences nine and 12, crossing the timers at 36.172 seconds, ultimately taking third place. Kocher and Captain Jack Sparrow H were also quick in the first round, jumping clear in a time of 78.909 seconds. The pair advanced straight to the jump-off, picking up pace and taking the same inside turns. Kocher and Captain Jack Sparrow H stopped the clock at 35.565 seconds, earning a first place finish. We caught up with Kocher after the awards presentation to chat about his win, "Jack Sparrow is a horse that my brother and I own together. We bought him at the end of Florida last year. I was really pleased with his result this afternoon. Hector is a new mount for me. He'll probably move up to the Grand Prix next week, but I was pleased with him as well. Both horses are really great horses to have."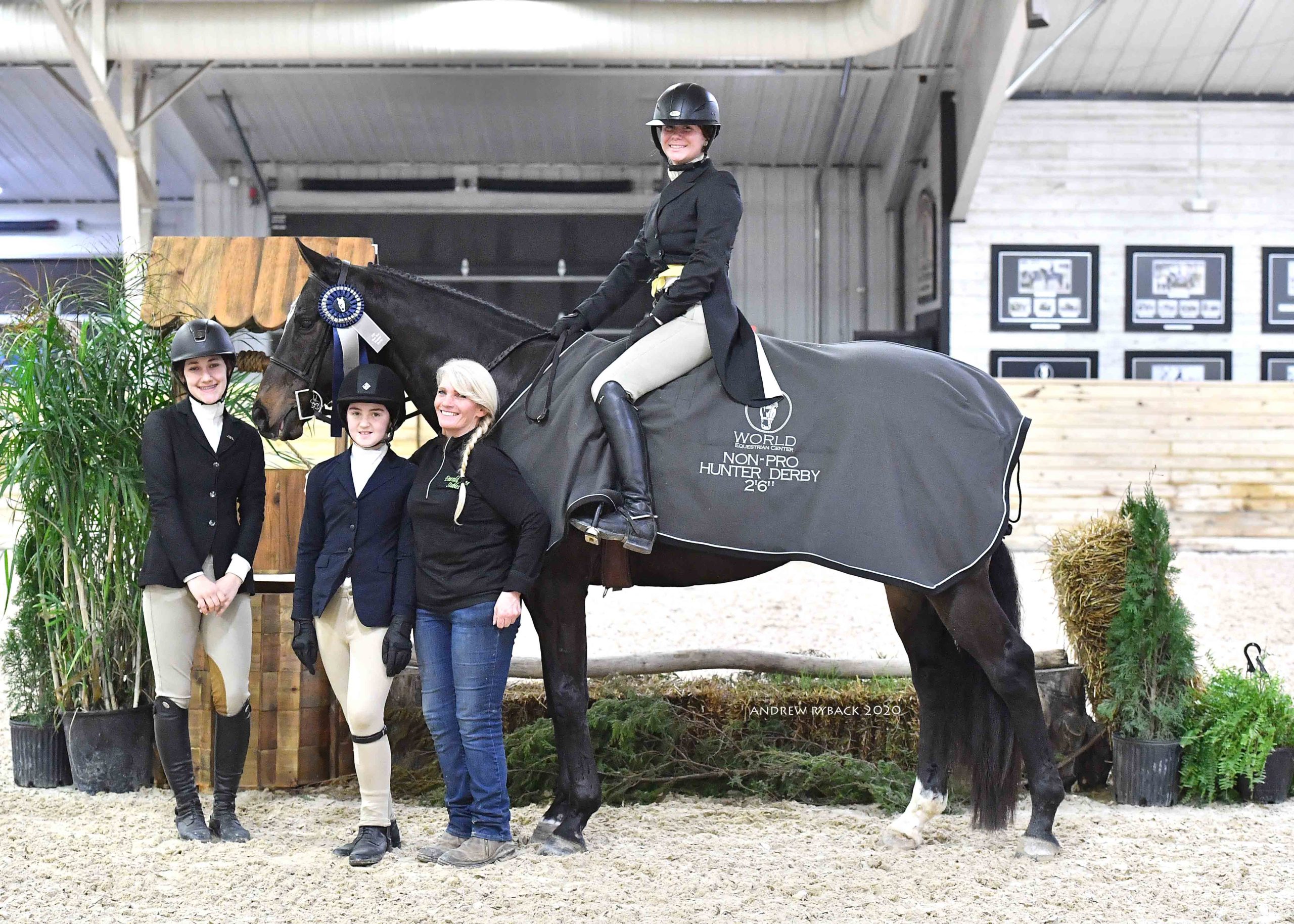 The Roberts Arena hosted 15 entries in Saturday's $2,000 on Pro Derby 2'6″. Competition was tough, but it was Avery Derby and Trista Keefe's Vodel (Vicar x Modella) who earned the win. Vodel also competed to top placings in the Opportunity Short Stirrup Hunters with Zoe Johnson throughout the weekend while Avery Derby showed Collette Restaino's LaCroix (Larentino x Little Betty Blue TB) successfully in the Intermediate Adult Hunters.
Join us at World Equestrian Center for the remainder of the 'Winter in the Midwest' horse show circuit, encompassing 19 weeks of AA rated horse shows from December 4, 2019 to April 26, 2020. Highlights include the new WEC Premier Equitation Cup Qualifier Classes, two $10,000 USHJA National Hunter Derbies and a weekly $25,000 WEC Grand Prix. The WEC Winter in the Midwest prize list is available now online at www.wec.net with entries being accepted via www.horseshowing.com. Print prize lists are available at our horse show office or by emailing info@wec.net. Reservations for stalls, hay and bedding as well as RV spaces may all be made online as well at www.horseshowing.com. Stalls for showing horses are $100.00, make your reservations at www.horseshowing.com.
Watch all of the action from the Sanctuary and the R+L arena online via ShowNet.biz. Tune in to WEC.net for the livestream link.