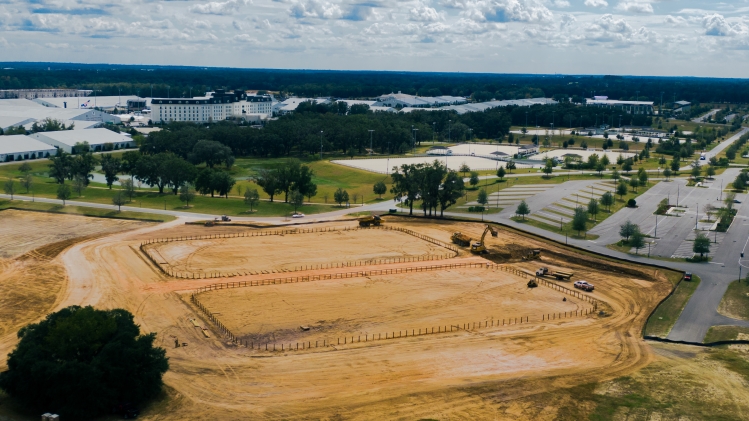 Ocala, FL – World Equestrian Center – Ocala is near completion on two new rings. The generously sized rings are 180 ft. x 300 ft. and feature all weather footing. Both rings are located on the northwest side of the property, by Barn Y.
The new rings are being built to accommodate exhibitors who are conducting training and schooling rides, and to supply them with dedicated riding space that is separate from the main competition and schooling areas.
"Our goal is to ensure that there is ample room for the important training and riding that our exhibitors do outside of preparing to go in the ring, said Vinnie Card, WEC – Ocala Director of Operations. "We wanted to offer more, separated space for people to try horses, conduct lunging, training and to school young horses and horses being exercised on their non-showing days."
The rings are expected to be completed in time for the second half of the World Equestrian Center – Ocala Fall Show Series, which runs for two consecutive weeks from December 7-18.
About World Equestrian Center
World Equestrian Center features two premier equestrian and multidisciplinary venues in Ocala, Florida, and Wilmington, Ohio.
These exclusive facilities comprise state-of-the-art arenas, expansive stadiums, versatile outdoor space, sporting fields and well-appointed exposition centers. An abundance of lodging options and luxury accommodations are conveniently located on-site, along with shopping and dining throughout each property.
Dedicated to offering great sport and fun in a family-friendly environment, World Equestrian Center promises an unparalleled experience for exhibitors, spectators, vendors, sponsors and retailers built on three core values: Quality. Class. Distinction.
Learn more at wec.net.